Introducing Acoustifence

®
(pat.pend.)
Now one of Acoustiblok's most popular products designed as an advanced sound barrier that easily attaches to most types of fencing, is available in a new green shade that easily blends into the environment. This makes it ideal for landscaping projects, residential home use and any outdoor applications where blending into the natural foliage is a concern.
Green Acoustifence has the same sound deadening properties and features as our original black Acoustifence. In addition, this new version features advanced reinforced edging, stainless steel cable ties, and is also made and sourced in the USA. It comes in 6 X 30 foot-sections and is one of the most effective first steps in reducing noise for industrial, commercial, and residential projects.
Acoustifence® was originally developed by the Acoustiblok corporation for offshore oil rig noise isolation, the Acoustifence has had proven success in many demanding applications. World Fence News defines Acoustifence as a "new defense against outdoor noise pollution". Commonly used in industrial usage, highways, construction sites, mass transit rail lines and even dog kennels, it is now available for residential use. It is a simple and economical first step in noise reduction which can truly make an improvement in your life and increase your privacy.
The Acoustifence is a unique 1/8th inch, 6' x 30' (3mm x 1.83m x 9.14m) heavy mineral filled, barium free visco elastic acoustical material. Longer lengths are available. It is made in the U. S. A. (from all USA materials) and, unlike fences or shrubs, this material does extraordinarily well in not only blocking direct sound, but a unique characteristic that sets it far apart from other sound barriers when dealing with very low frequencies, i.e. railroad/truck road noise and AC/heatpumps.
In frequencies of 50 Hz and below, the heavy limp Acoustifence material actually begins to vibrate from low frequency sound waves. In essence it is transforming these low frequency sound waves into mechanical movement and internal friction energy. Laboratory tests indicate that this transformation process reduces these low frequencies from penetrating the Acoustifence by over 60 percent relative to the human ear. In addition the Acoustifence becomes as an absorbent material in these frequencies with test results showing in an NRC (noise reduction coefficient) as high as 0.78 (1.00 being the max). As such it is clear that the Acoustifence not only reduces sound as a barrier, but also in very low frequencies, it acts as an acoustical absorbent material which is not reflecting back those low frequencies as other barriers would do (sheet lead workis in the same manner).
While the indoor Acoustiblok material is used and recognized throughout the world, even winning awards in the British House of Commons, the new Acoustifence material is extremely strong and engineered to withstand outdoor construction sites, highway environments, and even offshore oil rigs. Full exposure to dirt, grease, oil, mold or even being driven over is not a problem for the Acoustifence.
Having black anodized brass eyelets every 6 inches on the top edge and some on the bottom, allows easy hanging or attaching of the fence to just about anything. Heavy duty nylon wire ties are supplied with the fence and stainless wire ties are available at additional cost. Multi-level construction projects can easily overlap multiple Acoustifences attached to scaffolding to achieve many floors of vertical height sound blockage.
Staggered wood shadow box privacy fences (which of course provide no acoustical privacy) can easily incorporate Acoustifence without changing the visual appearance. Simply remove the vertical wood slats on your side of the fence, install the Acoustifence and reinstall the wood vertical slats. This is very easily done and leaves the appearance intact while adding acoustical privacy. A hammer, small crowbar, screw gun and some non rusting screws should be all the tools required.
To help you with your expectations, consider your noise source as a light bulb in a totally black night. The fence will block direct light (the majority) from reaching you, but any surrounding higher structures or trees will allow some lesser reflections to reach you. Sound acts in virtually the same way, therefore, the more barrier between you and the source the better.
Note: "Sound Abatement" is a reduction in noise as nothing is "sound proof." And while the Acoustifence has been tested in independent certified acoustical labs and the measurements (STC 28, representing a 85% reduction to the human ear) are very accurate, your results will be less, and vary greatly depending on fence height, reflections off surrounding environment, distances, elevations, and noise frequencies. Be that as it may, putting a sound barrier such as Acoustifence between you and the noise should be the first, and most beneficial step in reducing your noise. For an additional hourly charge our engineering department can produce an acoustical prediction map of your location to better assess the sound reduction outcome. The program we use is Cadna A, considered the most advanced in the industry for out door noise predictions.
A big step up (and greater investment) from the Acoustifence is our All Weather Sound Panels which block more and absorb (non-reflecting) virtually all sound striking them. Feel free to call or email us with your noise problem.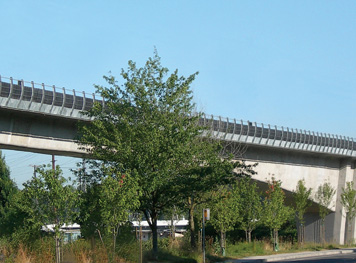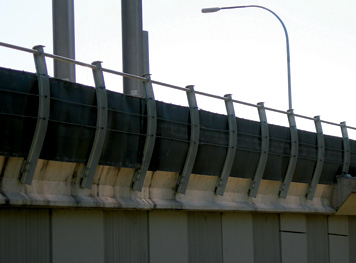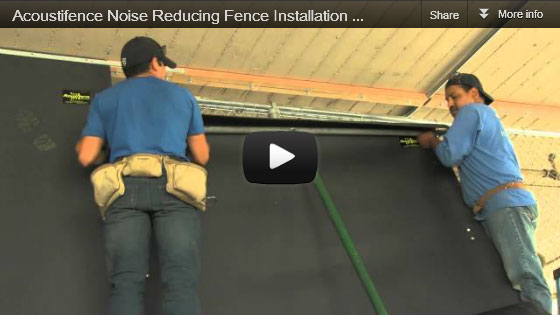 ∗Made in U.S.A. from all U.S. materials (Like All Our Products)
---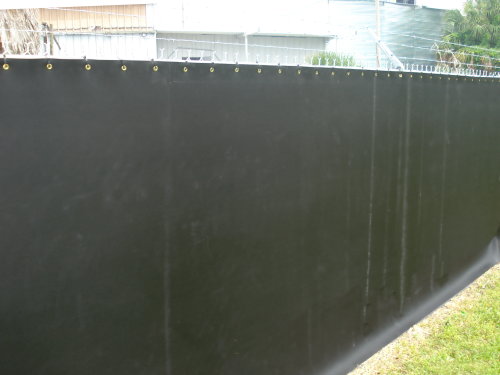 ---
---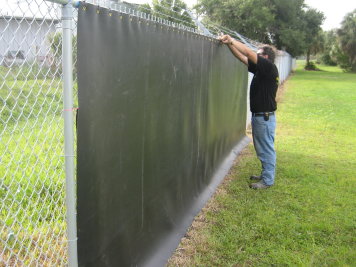 It is advisable to unroll the fence on the ground and let it relax in the sun for at least 3 hours.
Roll the fence back up. Lean the roll against the fence as vertical as possible with the grommet edge to the top. Line up the top of the roll to the top of the fence or at the desired height. Air must not go under the bottom of the fence.
Begin unrolling the Acoustifence along the fence. While one person slowly unrolls the material, the second person inserts the ties in each grommets and attaches to the fence or support structure. Leave ties very loose at this time. Insure that the material is kept taut (lengthwise) as you install the ties to prevent it from bunching up between ties. A third person is useful to help support the weight and keeping the fence pulled tight. Do not snug up the ties yet. Install all ties first keeping them loose.
On top edge, pull each tie so that the Acoustifence is properly lined up at the desired height. DO NOT make the tie tight! It must be loose enough to allow the eyelet to pivot freely on the tie. Try to distribute weight equally using every grommet. (FIGURE A)
Increase the tension on each tie (do not fully tighten) such that the weight of the fence is evenly distributed. Do not trim off end of tie until you are sure weight is evenly distributed. (You may even wait on this for several days to insure equal tension after material fully relaxes in place.
The end and bottom grommets should also be attached (again, not too tight). The bottom and sides must not be allowed to flap or to be excessively loose such that when the wind blows it yanks back and forth on the bottom grommets. At the bottom add dirt on both sides, the full length of the fence. Air and sound must not be allowed under the fence.
If questions arise, please call 813-980-1400 or e-mail us at sales@acoustiblok.com
The top ties MUST be loose enough to allow the fence to pivot on the nylon tie.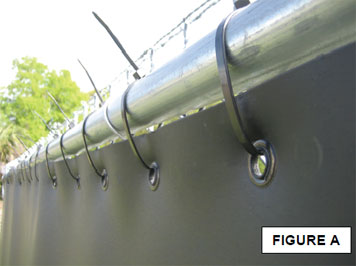 In high wind environments, especially if the Acoustifence is likely to be constantly flapping, it is highly recommended that the Acoustifence installation be reinforced. There are a variety of solutions depending on your application. We advise adding another chain link fence on the other side of the Acoustifence. Call to discuss options with you that will fit your specific installation. A reinforced Acoustifence (AAF6X30R) is also available.
Cold temperatures will reduce flexibility during install. Attempting to unroll if material is at a very low temperature is not recommended. Find a way to warm up the roll, i.e., leave indoor until fence roll becomes room temperature.
Leave top ties loose enough to allow the grommet to pivot on the ties. (FIGURE A)
If painting fences, do not use "elastomeric" paint. An exterior vinyl acrylic latex paint is recommended.
Using nails or screws alone instead of the grommets to support the fence will possibly cause tears in the material. Sandwiching the material between two surfaces can help to resolve this.
INSTALLATION RECOMMENDATIONS AND FOR HANGING MULTIPLE ACOUSTIFENCES HORIZONTALLY ON A CHAIN LINK FENCE